Pure Heroine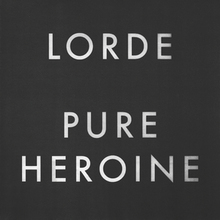 Extras
Pure Heroine is the début studio album by New Zealand singer-songwriter Lorde. It was released on September,27, 2013 by Universal Music. The release of the album came six weeks before Ella Yelich-O'Connor (aka Lorde)'s seventeenth birthday, after being spotted at the age of twelve by A&R scout Scott Maclachlan, who signed her to Universal. Recording for the album started soon after she released her critically acclaimed extended play The Love Club EP in March 2013.[citation needed] Yelich-O'Connor co-wrote the album with its producer, Joel Little.
Upon its release, Pure Heroine received positive reviews from music critics, including praise of Lorde's vocals and Little's production. Some critics found its music unoriginal and compared it to Lana Del Rey's music. The album débuted at number one in New Zealand being certified platinum in its opening week. The album also topped charts in Australia.
The album was preceded by the release of The Love Club EP single "Royals", which peaked at number one in New Zealand, Canada, and the United States as well as peaking within the top five of Australia. "Royals" was followed by the release of "Tennis Court" in June 2013. In mid-September 2013, the third single, "Team" was released.
Background[edit]
"The goal for me is to make a body of work that is cohesive, that feels like an album and is something that I'm going to be proud of. I'm working on an album at the moment and it seems a lot of albums lately don't feel like a cohesive set of songs that complement each other and mean something as a group. If I can make something which does feel like that, and feels right and true and good, then I will have succeeded."
"" — Yelich-O'Connor, on her objectives for 
Pure Heroine
.
[1]
From the age of 14, Yelich-O'Connor worked with Universal to develop her sound and artistic vision. She was spotted at the age of 12 by A&R scout Scott Maclachlan, after he saw a video of her singing in a talent show at her school, Belmont Intermediate.[2] Maclachlan later signed her to Universal at the age of 13 and began working with songwriters at 14. Yelich-O'Connor began writing songs at the age of "13 or 14" using her guitar.[3][4]
Having had recording under-way in November 2012,[5] The Love Club EP was released digitally in March 2013, and on CD in May 2013, with five songs including the number one hit "Royals". On 27 May 2013, "Royals" was covered bygirl group Gap 5, on New Zealand television's The X Factor and mentored by Melanie Blatt. Immediately prior to beginning work on Pure Heroine, Yelich-O'Connor stated her intentions for the début album to be a "cohesive" work.[1] As with The Love Club EP, Pure Heroine was recorded with producer Joel Little at Golden Age Studios in Auckland.[6][7]
Music and lyrics[edit]
The album's opening track, entitled "Tennis Court", is a song described as being lead single "Royals"' "older, slightly crazier cousin". Billboard characterised the song as having "detached attitude, woozy production and [being] chopped-n-screwed". The second song "400 Lux" is a "Femme fatale pop at its finest" that includes "over canyon-sized bass and popping percussion".[8] Lead single "Royals" is a minimal song of an experimental nature; it incorporates elements from different genres to create a new sound. Along with mainly chillwave, the song is influenced by art pop, pop, grime and blues. It follows the typical blues chord progression of D-C-G and is written in the key of D at a slow tempo of 85 BPM. It is written in common time. The song has a similar rhythm to a snap song.[citation needed] Lorde wrote the lyrics to "Royals" in only half an hour.[9] She was influenced by rap music and singer Lana Del Rey "I was listening to a lot of rap, but also a lot of Lana Del Rey, because she's obviously really hip-hop influenced, but all those references to expensive alcohol, beautiful clothes and beautiful cars – I was thinking, 'This is so opulent, but it's also bullshit.'"[10]
"Team"

MENU   0:00 A sample of "Team"----

Problems playing this file? See media help.
"Ribs" starts with an "exhausted-sounding Lorde growing more frantic with each passing second", with the lyrics that include the singer discovering her maturity and "grown-up problems".[8] "Buzzcut Season" has a "tropical paradise" style production with lyrics describing Lorde trying to remain "in blissful ignorance to the crumbling world trying to permeate through news broadcasts."[8] The album's sixth song, "Team", contains a "crashing, synth-heavy beat" and was described by Billboard as being "darkly melodic."[11]Lyrically, the song touches up on her "disconnect with modern pop music" and the difference between onscreen portrayals and reality.[11] Next, "Glory and Gore" is a song with lyrics that talk about "society's obsession with violence". The eight song, "Still Sane" was praised for Lorde's voice being described as "smoky and restrained", with lyrics touching "upon the "all work and no play" craziness of her teenage existence and reflects upon the duality of fame and legacy".[8] "White Teeth Teens" is a doo-wop style song that speaks on the imperfections of teenagers and the way they present themselves.[8] "A World Alone", the album's closing track, includes a "roaring dance beat". Its lyrics speak of a world "which is composed of haters, existential musings, endless Internet chatter and the one person with whom [one] can escape all the judgments".[8]
Singles[edit]
Officially released digitally in March 2013, and on CD on May 2013, The Love Club EP featured five songs including "Royals". "Royals" débuted at number 1 on the New Zealand Top 40 on 15 March 2013 and remained in the top position for three weeks.[12] On the same day, The Love Club EP débuted in the number 2 position on the album chart, behind David Bowie's The Next Day, which also débuted that week. In August 2013, Lorde became the first woman to top the Billboard Alternative Songs chart in the United States since Tracy Bonham in 1996.[13]
The "Tennis Court" single was released in New Zealand on 8 June 2013.[14] The Tennis Court EP was released digitally in the UK on 7 June (due to the timezone difference) and physically on 22 June.[15][16] It was played during the BBC coverage of the 2013 Wimbledon Championships Ladies Final. On 14 June 2013, Lorde's single débuted at number 1 on the New Zealand Top 40 singles chart. In the same week, she also became the first New Zealand artist to simultaneously have four songs in the top 20 tracks of the New Zealand Top 40. Previously,Titanium held this record with three songs.[17]
"Team" is the third single from the album.[18] It was leaked by Australian radio station Triple J on 12 September and as a result, the single was released digitally in Australia and New Zealand on 13 September.[11][19][20] The single became available in the United States on 13 September as part of the pre-order for Pure Heroine.[21]
Release and promotion[edit]
[1]
[2]
Lorde performing live at GOODGOD Club.
On 12 August 2013, Lorde announced via her official Twitter profile that her début album Pure Heroine would be released on 30 September 2013, along with she revealed the album's cover art and track listing.[22] The release of the album was preceded by an advertising campaign which saw lyrics to her songs displayed in buses, shop windows and even sent via fax machine to media outlets.[23]
Yelich-O'Connor was the replacement for Frank Ocean, who cancelled due to illness, at the 2013 Splendour in the Grass Festival. She was contacted on 26 July 2013, the Friday immediately prior to the weekend of the festival, while she was in attendance at a party with friends in Auckland, New Zealand. As Lorde, Yelich-O'Connor performed before 10,000 people in northern Byron Bay, Australia, where the festival is based as of 2013.[24]
In September 2013, Lorde appeared on New Zealand's 3rd Degree[25] and performed on Later... with Jools Holland.[26][27] On 23 September 2013, Buzzcut Season was released as a promotional single in some Asian iTunes Stores.[28][29] "Ribs" was offered as the free single of the week on iTunes the week the album came out.[30] On October 1, 2013 Lorde performed "Royals" and "White Teeth Teens" on Late Night with Jimmy Fallon.[31]
Critical reception[edit]
Upon release, Pure Heroine received positive reviews from music critics. At Metacritic, a review aggregate site, it has a weighted mean review score of 77 out of 100, indicating "generally favourable reviews".[32] Jason Lipshutz of Billboard gave the album a score of 94, describing the album as "immaculate" and stating that Lorde was "the most vocally striking and lyrically thought-provoking" artist to breakthrough in recent times. He also compared Joel Little's bass, loops and rhythms, on the album, to the dark electronica of English bands Massive Attack andThe xx. Furthermore, Lipshutz called the album "honest and addictive"; stating that "the age of Lorde" had begun.[8] Tom Cardy of The Dominion Post gave the album 4 out of 5 stars, stating that although the album was not "ground-breaking" and didn't offer any "surprises", it was a "pure gold" follow-up to her her extended play and was a "strong" début album.[36] David Farrier of 3 News gave a very favorable review of the album, stating that it lives "up to the hype" that its lead single "Royals" created and exceeded expectations. Farrier called Lorde's writing "so good" and praised her maturity; describing the album as "sonically delightful", "utterly unique", and timeless.[37]
Joe Cristo of Move gave the album 5 out of 5 stars; calling it "breathtaking" and "flawless". Cristo noticed that the album completely lackedfiller tracks and rivaled "every other record that has come out within the last year, and possibly in the last ten [years]". Cristo concluded his review by stating Pure Heroine would "stun" listeners.[38] Lydia Jenkin of The New Zealand Herald stated the album contained "lyrical genius" and "endlessly appealing melodies". Jenkin stated that the album did not offer any surprises, although praised Lorde's vocals; calling her the "new pop heroine".[39] SPIN's Maura Johnston offered a somewhat contrasting review of Lorde and her album, suggesting "her age as some sort of clumsy ploy", that "the music is aggressively okay" and "is wash in (possibly fake) teen-pop-star ennui".[40] Stephen Thomas Erlewine of Allmusic gave the album 3 out of 5 stars, stated that Lorde's personality on the album "may be an act" and stated that Lorde was unhonest on the album. Erlewine also noted Lorde's music was unoriginal; comparing her to Lana Del Rey on several occasions, although praised Lorde's style and "potential".[41] Adam Offitzer of Pretty Much Amazing gave the album a B, stating that the album was "no masterpiece" and said that the tracks during the middle of the album did not have a purpose. Offitzer stated that the album sounded "effortless" and noted Lorde's vocals sounded "restrained". Offitzer concluded his review by saying that Pure Heroine was engaging enough to keep Lorde relevant.[42] Giving the album a 7.3/10 Pitchfork's Lindsay Zoladz noted that Lorde "achieves a tricky balancing act of exposing irony and even hypocrisy without coming off as preachy or moralistic", whilst implying that the music deftly depicts pompous characters.[citation needed]
Commercial performance[edit]
The album reached number one on the New Zealand Top 40 Albums chart in its first week on sale and was certified platinum.[43] The album also reached number one on the Australia Top 50 Albums chart in its first week on sale.[44] A week after its release, it topped the US iTunes chart.
Track listing[edit]
[45]
No.
Title
Writer(s)
Producer(s)
Length
1.
"Tennis Court"  
*Ella Yelich O'Connor




Joel Little
3:18
2.
"400 Lux"  
*Yelich O'Connor




Little
3:54
3.
"Royals"  
*Yelich O'Connor




Little
3:10
4.
"Ribs"  
*Yelich O'Connor




Little
4:18
5.
"Buzzcut Season"  
*Yelich O'Connor




Little
4:06
6.
"Team"  
Yelich O'Connor
Little
3:13
7.
"Glory and Gore"  
*Yelich O'Connor




Little
3:30
8.
"Still Sane"  
Yelich O'Connor
Little
3:08
9.
"White Teeth Teens"  
Yelich O'Connor
Little
3:36
10.
"A World Alone"  
Yelich O'Connor
Little
4:54
Total length:
37:08
Personnel[edit]
Credits for Pure Heroine adapted from Allmusic.[46]
Stuart Hawkes - Mastering
Mario Hugo - Design, Illustrations
Joel Little - Composer, Engineer, Instrumentation, Mixing, Producer
Lorde - Primary Artist
Ella Yelich O'Connor - Additional Production, Composer, Vocals