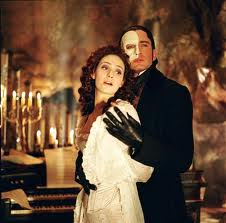 Phantom of the Opera 
is a song in the musical, Phantom of the Opera. It is composed by Andrew Lloyd Webber, sung by Sarah Brightman and Michael Crawford, lyrics written by Charles Hart and Richard Stilgoe, and additional lyrics by Mike Batt.
The song is performed in Act I after the song "Angel of Music" (The Mirror) and before "The Music of the Night" (and is reprised in Act Two at the end of the song "Notes/Twisted Every Way"). It takes place as the Phantom escorts Christine by boat to his lair beneath the Opera Garnier. It is sung as a duet by Christine and the Phantom. In this song, Christine sings her highest note in the show, an E6, at the end of the song. In different shows, Sarah Brightman sings this song in different duets with other performers Steve Harley, Antonio Banderas, Chris Thompson, Alessandro Safina, Mario Frangoulis, Colm Wilkinson, Anthony Warlow, John Owen-Jones, Peter Jöback and Erkan Aki.
Ad blocker interference detected!
Wikia is a free-to-use site that makes money from advertising. We have a modified experience for viewers using ad blockers

Wikia is not accessible if you've made further modifications. Remove the custom ad blocker rule(s) and the page will load as expected.