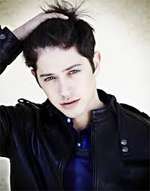 Jeremy James Train
(Real name Chris Galya) (Born August 23, 1987) is a fictional teenage heartthrob which was transformed into a popstar in 2011. He follows the stage name Jeremy Train. Besides being a singer his real identiy Chris Galya is best known for playing Tony in the Disney Channel series
JESSIE
.
2007-2011:Acting Career
Edit
Chris' first role was in 2007 in one episode of Momma's Man. He continued to act in many roles but was best known for playing Jessie's boyfriend Tony in the Disney Channel series JESSIE.
2011-present: Stage Name Jeremy Train Earnt; Jeremy Train Ultimate Playlist
Edit
The fictional television network Comedies For Kids discovered that Chris could sing and signed him a record deal. His first launch of his career was his first official appearance as Jeremy Train in the fictional TV show WildSide one hour event Wild Heartthrob where is was revealed as a singer. He then started appearing in other CFK shows such as Brotherhood and the new show Wishful Thanking. In 2012 he finally released his first official album Jeremy Train Ultimate Playlist which reached number 17 on the US Billboard chart.
Jeremy Train's Music
Edit
Jeremy Train mostly performs Australian/British singer Reece Mastins's songs and most songs on his album are the same. The only exception is a song written by James Dipthong (fictional song writer) 'Time in Colorado' which describes his experience in the WildSide episode Wild Heartthrob
See also List of Jeremy Train Songs