Imagine Dragons is an American alternative rock band from Las Vegas, Nevada. The band gained exposure following the September 2012 release of their debut studio album, Night Visions , which peaked at number 2 on the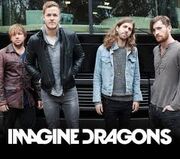 weekly Billboard 200 chart. Following the release of Night Visions, Imagine Dragons embarked on a world tour, and performed on major late night shows, including The Tonight Show with Jay Leno, Jimmy Kimmel Live!, Late Night With Jimmy Falon, The Late Show with David Letterman and Conan. Billboard named Imagine Dragons "The Breakthrough Band of 2013," and Rolling Stone named their single "Radioactive " "the biggest rock hit of the year."
Imagine Dragons' line up includes vocalist Dan Reynolds, guitarist Wayne "Wing" Sermon, bassist Ben McKee and drummer Daniel Platzman. Former members include Andrew Tolman (drums), and Brittany Tolman (keys).
The band's debut album,Night Visions is currently certified at Platinum in the United States, Austria, Canada, Portugal, and Sweden, having sold over 1.5 million copies in the U.S. alone. The album is also certified gold in multiple countries, including Australia, Britain, Germany, New Zealand, Philippines, and Switzerland. Imagine Dragons has released multiple EP's, including 2009's Imagine Dragons, 2010's Hell and Scinece, 2011's It's Time, and 2012's Continued Silence and Hear Me. The band released a live album, Live at Independent Records, in April 2013.
Imagine Dragons' "It's Time" was nominated for the Best Rock Video award during the 2012 MTV Video Music Awards. "Radioactive" was nominated for the same award during the 2013 MTV Video Music Awards. "Radioactive" won the 2013 Teen Choice Awards Choice Rock Song award. The band is nominated for three awards at the 2013 American Music Awards: New Artist of the Year, Favorite Band, Duo, or Group-Pop/Rock and Favorite Artist (Alternative Rock).
Dan Reynolds- Vocals, Bass drum, Guitar 
Ben McKee — Bass, Backing Vocals, Keyboards 
Dan Platzman — Drums, Viola, Backing Vocals

information from wikipedia
| | |
| --- | --- |
| | This user likes Imagine Dragons |
| | |
| --- | --- |
| | This user likes alternative rock |