Bowling for Soup
 (often typeset as 
¡Bowling for Soup!
 or abbreviated as 
BFS
) is an American rock
 band which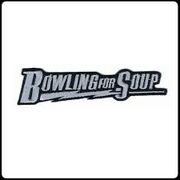 originally formed in Wichita Falls, Texas
 in 1994. Now based in Denton, Texas
, the band is best known for its singles
 "Girl All the Bad Guys Want
" (a  2003 Grammy Award 
nominee),
 "Almost
", "Punk Rock 101
", "High School Never Ends
", and SR-71
 cover "1985
". On April 8, 2013 Bowling for Soup announced that their last tour of the UK will take place in October of the same year.
Band Members

Edit
Jaret Reddick – lead vocals, guitar 
Chris Burney – guitar, backing vocals 
Erik Chandler – bass, backing vocals
Gary Wiseman – drums, backing vocals
Discography
Edit
Bowling For Soup (1994)
Cell Mates (1996)
Rock on Honorable Ones!!(1997)
Tell Me When to Whoa (1998)
Let's Do It For Johnny! (2000)
Drunk Enough to Dance (2002)
A Hangover You Don't Deserve (2004)
Bowling For Soup Goes to the Movies (2005)
The Great Burrito Extortion Case (2006)
Sorry For Partyin' (2009)
Fishin' For Woos (2011)
Lunch. Drunk. Love. (2013)
Ad blocker interference detected!
Wikia is a free-to-use site that makes money from advertising. We have a modified experience for viewers using ad blockers

Wikia is not accessible if you've made further modifications. Remove the custom ad blocker rule(s) and the page will load as expected.